TRUE KNOWLEDGE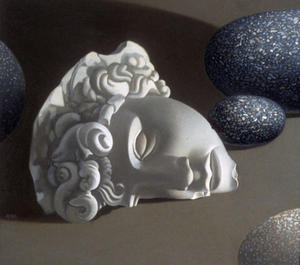 Paintings in the 90's are mainly about highly realised objects, theatrically lit and carefully located in relation to one another in an invented space. These objects are developed through the painting process beyond objective observation. The proposal that this can create a poetic effect which transcends the meaning or value of these objects is one of the central concerns of twentieth-century art and I am dedicated to the renewal fo this tradition. I have also developed a number of visual metaphors which include invented block diagrams representing landscape and models fo classical buildings. These are painted in high focus with a clear directional light and strong cast shadows.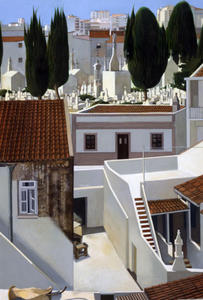 The origin of recent changes in my work can also be found in a number of paintings which have begun in the landscapes of Spain, Greece and Italy and have been completed in my studio. Although landscape painting is not a central concern in itself, these works have contributed much to recent developments. In this I acknowledge the formal simplicity in the landscape of the American Regionalist Grant Wood.
Alan Robb
"The cube,sphere and cone suggest the elusive possibility of "True Knowledge" among the shifting play of perception, imagination and meaning which his paintings combine."
Euan McArthur, 'In the Minds Eye,' 1996