ESSAYS, QUOTES AND OBSERVATIONS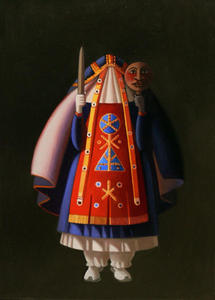 As I review my practice and resulting body of work it seems like a speculative circular journey, based almost wholly on intuitive choices and a growing understanding of what I can do. The motivation and momentum comes from unexpected discoveries and the hundreds of small decisions, which give each work its resolved identity.
I first visited Brazil in 1991 and was introduced to a brilliant new world by fellow artists Antonio Claudio Carvalho and Clare Andrews. Based in Rio, we visited Paraty, Belo Horizonte, Ouro Preto and Congonhas du Campo, Menas Gerais. I was introduced to the wonderful 17th Century sculptor Aleijadinho and Baroque Tropical.
"You see clearly identifiable European architectural forms supercharged by African cosmology." AR
The Carvalho apartment was dramatically situated in Leblon, below the towering Two Brothers Rock and opposite woodland and forest. At night I lay listening to the distant rhythms of drums and ago-go.
"It's our local terreiro, it's Macumba." A seed had been sown.
We returned to Rio in 1998 and I visited the wonderfully theatrical Museu de Folclore, Edison Carneiro. I knew I'd discovered a fresh and potent source of images and ideas.
In January 2005 funded by a Carnegie scholarship, I returned to Brazil and spent two weeks working at the Museu do Folclore, in a very helpful and supportive atmosphere with full access to library and their great collection of religious objects.
I also spent a week in the old capital of Brazil, Salvador, gathering more material from the famous Museu Sacra Santa Tereza and the Museu Afro-Brasileiro. I visited many churches and the great cathedral Nosso Senhor do Bonfim and its voto chapel, the House of Miracles.
I attended two Candomble ceremonies. The first, held in the oldest terreiro in Salvador, was to Oxala, the most senior Orixa. It was long, intense and very beautiful.