EARLY REVIEWS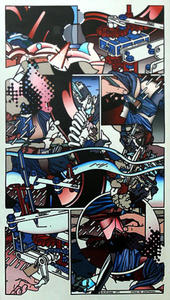 Geraldine Neeson writing in the Irish Times about the exhibition 'Eva 77' and AR's winning painting 'Could be Continued'.
"Technical brilliance, a commendable indulgence in strong well-controlled colour and excellent drawing are features of Alan Robb's work. Machine structures and isolated parts are shown with great discipline of detail, form and colour. He has a gift for presenting textures metals, fabric's plastics. He understands too the passion for speed in today's pattern of life - a pattern lived on the surface, seeking only for distraction in the shape of sensation. Ephemeral and cruel but prevalent."
*This quote was included in the section on Alan Robb in 'Contemporary Irish Art', Roderick Knowles.Wolfhound Press Dublin 1982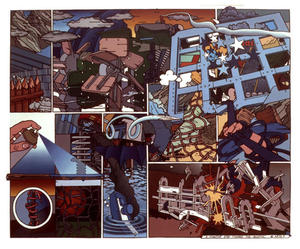 Scotsman June 1975 RSA Review
"A Positive Step towards the Negative" was exhibited at the RSA summer exhibition in Edinburgh and Edward Gage wrote:
"Another fallow year with the exception of three young sculptors showing at Demarco's, Harvey, Scott and Bushe, and some Acid Pop from Alan Robb."
*This painting was bought by the Arts Council and hung in the Fruit Market Gallery Café for years. It is now part of Dundee City's collection.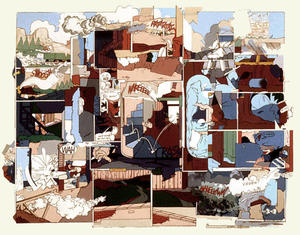 New 57 Gallery
The first solo Exhibition at the New 57 Gallery was reviewed by the late Edward Gage in the Saturday Scotsman 4.12.72
"I have never seen the idiom of strip cartoon exploited in such fine art terms as it is in Alan Robb's extremely sensitive, pale and ascetic paintings.an immaculate technician who cares about presentation no matter what the subject -comic strip, poetic record or machine shop parody - and often challenges reality. Many of his interests fuse in a large painting of an 'airfix' aviator and biplane."