HELEN BROWN in THE COURIER: 'A PAINTED WORLD'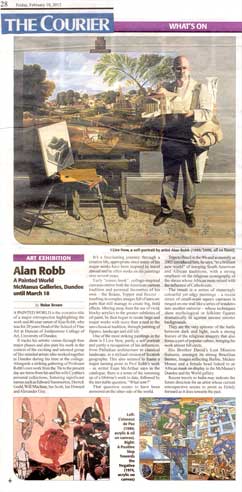 A PAINTED WORLD is the evocative title of a major retrospective highlighting the work and 40-year career of Alan Robb, who was for 20 years Head of the School of Fine Art at Duncan of Jordanstone College of Art, University of Dundee.
It tracks his artistic vision through four major phases and also puts his work in the context of the exciting and talented group of like-minded artists who worked together in Dundee during his time at the college. Alongside a striking gathering of Professor Robb 's own work from the 70s to the present day are items from his and his wife Cynthia's personal collections, featuring significant names such as Edward Summerton, Derrick Guild, Will Maclean, Ian Scott, Ian Howard and Alexander Guy.
It's a fascinating journey through a creative life, appropriate since many of his major works have been inspired by travel abroad and he often works on his paintings over several years.
Early "comic-book", collage-inspired canvases mirror both the American cartoon tradition and personal favourites of his own - the Beano, Topper and Beezer - resulting in complex images full of intricate parts that still manage to create big, bold effects. Moving away from the use of vivid, blocky acrylics to the greater subtleties of oil paint, he then began to create large and major works with more than a nod to the neo-classical tradition, through painting of figures, landscape and still life.
One of the most striking paintings in the show is I Live Now, partly a self-portrait and partly a recognition of his influences, from Palladian architecture to classical landscape, to a stylised version of Scottish geography. This also seemed to frame a major turning point in Prof Robb's work - as writer Euan McArthur says in the catalogue, there is a sense of the summing up of a lifetime's work to date, followed by the inevitable question, "What now?"
That question seems to have been answered on the other side of the world. Trips to Brazil in the 90s and as recently as 2005 introduced him, he says, "to a brilliant new world" of merging South American and African traditions, with a strong emphasis on the religious iconography of the slaves whose African roots mixed with the influence of Catholicism.
The result is a series of stunningly colourful yet edgy paintings - a recent series of small-scale square canvases is ranged on one wall like a series of windows into another universe - whose techniques show mythological or folklore figures dramatically lit against intense sinister backgrounds.
They are the very epitome of the battle between dark and light, such a strong feature of the religious imagery that also forms a part of popular culture, bringing his work almost full circle.
His Brother David's Last Mission features, amongst its strong Brazilian themes, images reflecting Barbie, Mickey Mouse and a female head linked to an African mask on display in the McManus's Dundee and the World gallery.
Recent travels to India may indicate the future direction for an artist whose current retrospective seems to point as firmly forward as it does towards the past.